Biographical

Type
Masquerade Ball
Date Held
May 2nd, 2112
Characteristics
King and Queen revealed at midnight
Death or Attack
Death
Victim
Annabel Buchanan
The Masquerade Ball of le Chateau de Versailles was the first event to be held in Versailles upon its opening as a royal training school. It was held in the Hall of Mirrors.
The event was a masquerade, meaning that the attendee's identities were kept a secret until the strike of midnight. At midnight, masks were removed and the king and queen were announced. They were voted on by the other attendees of the ball upon entry. Joline Bernadotte and Tristan Edwards were the Queen and King, respectively.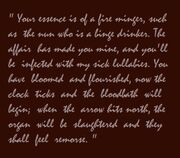 Elliot Odenberg had decoded a note with a riddle from the murderer, containing the clue that "When the arrow strikes north" was when the murderer would strike. He was late to the ball, but seeing everyone all right, he made his way to a bathroom. Frustrated with himself, he punched a mirror, bleeding from his hand. About that time, Annabel Buchanan stumbled onto the scene, confused. By the time he realised the situation's irony, he realised she was the victim. A shadow appeared, and plunged a hand into the girl's chest, crushing her heart until it stopped beating.
Elliot tried to preserve the body in the bathtub, trying to figure out how to tell Arabella Buchanan about her sister's death, when another royal stumbled onto the scene, and instantly claimed he was the murderer. He was taken by the guards to the dungeon, accused of being The Murderer.
Community content is available under
CC-BY-SA
unless otherwise noted.