"I can take care o' myself ye know, luv. Don't need yer help"
—Alice to Stefan Catalin
Alice is the eldest of the four Buchanan princesses. She passed the throne down to Anastasia because she felt that she would never be ready for the responsiblity of queen. She loves to live life to its fullest, which has been known to cause problems.
High-strung is a polite way of saying that Alice is the wild child of the Buchanan clan. Being the eldest, she was expected to set a model for her sisters, supposed to set the bar for them to meet. But she made it easy, not bothering with setting the bar. She would go out late and come back in the early morning smelling of alcohol, sex, and smoke. In other words, she was the classic pary girl. Despite being reckless, when it came to her sisters she tried, "tried" being the key word.
Versailles
Edit
asdkolamsdasndbasdasd
Personality
Edit
paoskdlmasdasd
Apperance
Edit
Alice is the pos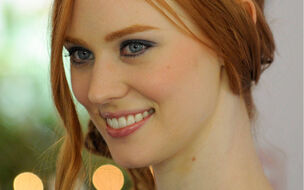 ter child for Scotish beauty. Bright blue eyes with equally bright red hair and a tall, lean frame. She is the tallest of her sisters at 5'11" and a flawless complexion, due to her power of invincibility and having no scars.
asdkasmdn absdasd
Relationships
Edit
The Ex Boyfriend.
Edit
asodklasmdnjasdasd
asodklamdajsd
asodklasdasd
aoskldmndhasbdjansd
asodikjadasd
Community content is available under
CC-BY-SA
unless otherwise noted.